Looking for a Hostinger review then keep calm and just read our latest Hostinger Web hosting review 2020. Here you will know everything about Hostinger its Pros and Cons too. We will also let you know its web hosting pricing with discounted rates. So know an in-depth review of Hostinger Web Hosting further.
Hostinger is very popular across the oceans or you can also say worldwide famous. With its popular web hosting services, it has served more than 30 million customers not only in the UK and US but Indonesia and India too.
Seeking to host for a new website or else thinking of changing web hosting with Hostinger hosting switching service. Then you should know everything about Hostinger before making any choice.
So let's get started into details of Hostinger web hosting with prices, plans, and types of hosting services they provide. Use this Hostinger Web Hosting Review to make your decision.
About Hostinger Web Hosting Company
Hostinger is one of the oldest web hosting providers since 2004. Till now Hostinger has served web hosting to 30 million customers all over the world (More than 170 countries). The support you get in Hostinger is 24/7 every single day and according to their site, they provide fast loading speed to users.
Hostinger is also popular for WordPress users because it is officially recommended by WordPress.org for hosting providers. Along with shared hosting, they also serve dedicated servers, domain registration, cloud hosting, and many more. As this is a Lithuania company their headquarters are located in Kaunas, Lithuania.
According to Hostinger, the most important thing which makes them extraordinary is that they have to serve everyone website since 2004 every day with passion, dedication, and expertise to take care of customers' websites. This makes them very special in the web hosting industry.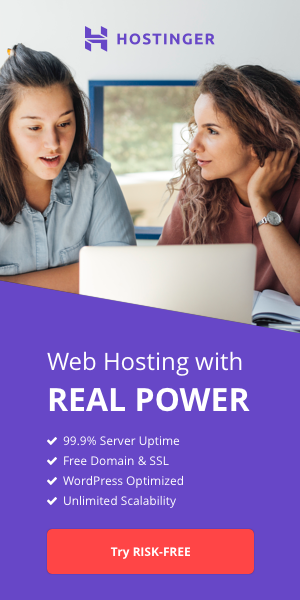 What does Hostinger Offer?
Hostinger offers many web hosting like Shared hosting, WordPress hosting which is recommended by WordPress.org as you know, Cloud hosting for more SSD storage, and fully managed servers. Hostinger also offers Email hosting in which you can create multiple numbers of emails for your business. There's also VPS hosting and Minecraft Hosting in which you can have more power and performance while gaming Minecraft.
Currently, they are offering 70% OFF on web hosting plans including free SSL. Usually, the prices of shared hosting plans start from Rupees 199, now you can get it at just Rupees 59 per month. In this plan, you will get one website hosted with Free SSL.
Another thing that they offer to customers is to start their website with automatic WordPress one-click installation for seamless working. They provide you a Website builder for designing websites, smooth website migration.
Features provided by Hostinger Web Hosting
The basic shared hosting which Hostinger provides is of three plans are Single, Premium, and Business. These three shared hostings are most selling web hosting from Hostinger. So let's take a look that what features does web hosting by Hostinger provides.
1. Essential Features
‣• Free CMS Install
Install apps like WordPress, Drupal, Joomla, etc to with your site within a minute.
‣• Free Email Accounts
Unlimited email accounts like for Eg: you@yourWebsite.com
‣• Unlimited MySQL DB
Unlimited number of MySQL database storage
‣• Friendly Site Tools
All web hosting comes with powerful site tools.
‣• 100% Renewable Energy Match
Data Center is a partner with Google Cloud which means 100% matches renewable energy.
‣• Free Drag & Drop Weebly Sitebuilder
Create a beautiful website just by drag and drop with SiteBuilder.
‣• 30 Days Money Back
Hostinger offers 30 days money-back guarantee on all shared hosting plans.
2. Performance Features
‣• SSD Storage
Files and data are stored in Solid State Drives which are 1000x faster than regular drives.
‣• Multiple Data Centers
Multiple data centers are located at different places for better speed for visitors.
‣• Free CDN with Every Account
Free Cloudflare CDN makes your website load faster in any corner of the world.
‣• Customized Server Setup
Shared hosting plans can use customized CentOS and NGINX web server technologies to makes performance better.
‣• UltraFast PHP (GoGeek)
Again PHP makes your pages load faster allowing more visitors to the site.
3. Security Features
‣• Spam Protection
Advanced spam protector without any additional cost.
‣• Automatic Daily Backup
Automated daily backup on hosting servers for restoring in any emergency.
‣• Anti Hack System
Anti hack system added to protect websites running on WordPress, Drupal, or Joomla from attackers.
‣• Free SSL Certificates
Automated SSL installation on every shared hosting plan by Hostinger.
4. Customer Support
‣• Help Via Phone, Chat & Tickets
Customer help is available through phones, chat, and ticket systems to resolve problems.
‣• 24/7 Fast Support
Support is delivered 24/7 to resolve issues instantly and efficiently.
5. Features for Developers
‣• Free SSH and SFTP
Free SSH is developed to allow secure account restricted access.
‣• Free FTP Accounts
With Hostinger web hosting you can make unlimited FTP accounts.
‣• Managed PHP Version 7.3
Automatic PHP version updated to make your site safe and sound. Since the ending of 2019 all-new sites is activated to use PHP-managed servers.
‣• MySQL & PostgreSQL Database
SteGround offer unlimited number of MySQL and PostgreSQL database so that you can easily create and manage them.
Hostinger Shared Hosting Plan Review
Hostinger Basically offers three hosting plans which are planned to adjust to the needs of users. The three plans are Singel Plan, Premium Plan, and Business Plan. These plans share many key features like not limiting the traffic that your website received, 30 days money-back policy, SSD storage, a Database, and unlimited emails plus 24/7 customer support.
Let's see these three plans which are offered by Hostinger below:
SINGLE PLAN FEATURES
One Website Hosted
Github Integration
10000 Visits Monthly
Free
SSL Certificate
DNS Management
2 MySQL Database
1 Click WordPress Install
Free WebSite Builder
Cloudflare Protected Nameservers
Free CDN
View Full Features
Single Web Hosting Plans by Hostinger
PREMIUM PLAN FEATURES
100 Website Hosted
Github Integration
Unlimited Visits Monthly
Free
SSL Certificate
Weekly Backup
Unlimited MySQL Database
1 Click WordPress Install
Free WebSite Builder
100 Email Accounts
Free CDN
DNS Management
Unlimited FTP Accounts
View Full Features
GrowBIg Web Hosting Plans by Hostinger
BUSINESS PLAN FEATURES
100 Website Hosted
40 GB SSD Disk Space
100000 Visits Monthly
Free
SSL Certificate
Daily Backup
Unlimited MySQL Database
1 Click WordPress Install
Free WebSite Builder
100 Email Accounts
Free CDN
On Demand Backups Copies
Speed Boosting Caching
Ultrafast PHP
Priority Support
View Full Features
GoGeek Web Hosting Plans by Hostinger
If you want Windows-based servers then you can check out MilesWeb or ResellerClub because Hostinger does not provides Windows-based servers.
For whom Hostinger is best?
I personally recommend you use Hostinger because its service is unbeatable and you know already that it has more than 15 years of experience in the web hosting industry. Hostinger is suitable for everyone like small businesses, bloggers, news sites, or for an individual. If you want more power and performance then you can go for premium web hosting i.e Cloud or VPS.
New Bloggers
Professional Bloggers
Online Market Stores
Small Businesses
Large organization or Corporates
Websites which runs on Joomla or WordPress
Designers, Developers who want the best customer support
Everything which requires web hosting
If you are looking for Eco Friendly hosting then you should prefer, GreenGeeks or MilesWeb in which you can get shared hosting at the best price.
Hostinger Hosting Plans & Pricing Review
Shared Hosting Plans Pricing
Hostinger shared hosting plans suitable for small businesses and for beginners.
| Plan | Storage | Bandwidth | Number of sites | Price |
| --- | --- | --- | --- | --- |
| Single | 10 GB | 100 GB | 1 | Check Here |
| Premium | Unlimited | Unlimited | Unlimited | Check Here |
| Business | Unlimited | Unlimited | Unlimited | Check Here |
Prices may vary, So Click on Check Here.
WordPress Hosting Plans Pricing
WordPress hosting comes with One-click WP install and it's simple and easy to use.
Prices may vary, So Click on Check Here.
VPS Hosting Plans Pricing
DESIGNED TO HELP YOU SELL MORE ONLINE
Prices may vary, So Click on Check Here.
Cloud Hosting Plans Pricing
Guaranteed resources that will help you to grow your business to the next level along with hostinger's fully managed service.
| Plan | Storage | CPU | RAM | Data Transfer | Price |
| --- | --- | --- | --- | --- | --- |
| Entry | 40 GB SSD | 3 CPU Cores | 6000 MB | 5TB | Check Here |
| Business | 60 GB SSD | 4 CPU Cores | 8000 MB | 5TB | Check Here |
| Business Plus | 80 GB SSD | 5 CPU Cores | 10,000 MB | 5TB | Check Here |
| Super Power | 120 GB SSD | 9 CPU Cores | 12,000 MB | 5TB | Check Here |
Prices may vary, So Click on Check Here.
Hostinger Pros and Cons
PROS
Greate Value for Money: The web hosting service by Hostinger is fast and prices are competitively low than any other hosting company.
Great Customer Support: They offer excellent support and assistance to users 24/7 and resolve problems quickly.
Good Uptime: The uptime you get on Hostinger hosting is nearly 99.9 %
Free Domain: You can also get free domain names with the Hostinger web hosting plan if you purchase for a year.
Daily Backups: Hostinger provides daily backup features to every hosting plan so that your data is safe and recoverable.
Resources: There are many educational resources and blogs about Hostinger to understand its products for free to customers.
CONS
Average Speed: Hostinger is a cheap hosting provider but their hosting speed is decent.
Renewal Rates: The renewal rates are higher with any hosting and the domain name is not free unless you purchase for a year.
Limited Database size: Every plan of Hostinger comes with maximum database size.
How Hostinger keeps the price low
Hostinger Customer Support Review
I guarantee you that with Hostinger you will never have any problem with their customer support. But if you went into some technical problem with your Hostinger hosting then you will need assistance to solve your problems.
But sometimes your call maybe not be answered due to this COVID pandemic and lack of manpower in customer support. Always helpful with problems and with great technical skills. Comes back even if the problem needs more time. Updates are always there to download making it easy to keep my website top-notch. The new dashboard is easy to follow with good parameters.
Hostinger Web hosting Review 2021: Conclusion
To be honest you should go for Hostinger Web Hosting for many good reasons like price, flexibility, and support. The lack of more excellent hosting options and several examples of regular hosting marketing idiom we mentioned throughout this detailed Hostinger review doesn't change the fact that this company provides great value for money.
Hostinger Web Hosting: FAQs
Can we use a domain name not registered with Hostinger with my Hostinger website?
Yes. There are several steps you need to take for your domain name to point to your Hostinger site, and you can find full details on this Hostinger website.